Have some questions about the Apalachicola River House? Here's a list of some of the most frequently asked questions. If you have questions that are not answered here, please contact us.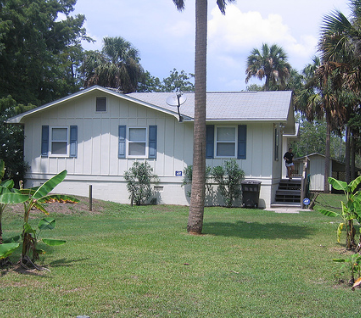 Find your Riverhouse Questions here
1. What is the weather like in Apalachicola?
Month Low High
Jan 43.0°F 62.4°F
Feb 45.8°F 64.8°F
Mar 51.4°F 69.9°F
Apr 57.6°F 76.0°F
May 65.1°F 83.0°F
June 71.6°F 88.3°F
July 73.9°F 89.8°F
Aug 74.0°F 89.4°F
Sept 71.2°F 87.0°F
Oct 60.5°F 79.9°F
Nov 52.0°F 72.0°F
Dec 43.3°F 65.0°F
Please visit one of the links at the bottom of the page for current Apalachicola weather. You may also want to visit RSSWeather.com to view a summary of Aplicahicola's weather, including temperature and percipitation graphs.




2. We know that the fishing in Apalachicola is outstanding, but what else is there to do?
Apalachicola is the perfect place for a family vacation. In addition to the excellent fishing, there are miles and miles of uncrowded, sugar-white beaches for sunbathing and swimming. There's antique-ing in the town's many charming and unique shops and ther are several outstanding examples of antebellum architecture that are open to the public. There are nature preserves for hiking and observing wildlife, and there is definitely no shortage of freshly prepared, mouthwatering seafood from the area restaurants. To find out more about things to do and see in Apalachicola, please visit our Area Attractions page.
3. How many guests can stay at the Riverhouse?
Maximum occupancy for the Riverhouse is 6 people.
4. Is the house fully furnished?
Yes, it is fully furnished. Bed linens and towels are provided. Pots, pans, dishes, and eating utensils are also provided. It even comes with high speed internet.
5. Is this a smoke free house?
Yes, smoking is NOT permitted at the Riverhouse.

6. Are pets allowed?
No, pets are not allowed.
7. May I bring my own boat?
Yes, you may bring your own boat if you prefer to and fish on your own as well.


8. Am I responsible for cleaning the house before leaving?
The Riverhouse will be clean upon your arrival and will be cleaned for you when you leave. We do appreciate you taking care of the property during your stay.